First foldable smartphone by Motorola
So finally, we have the first foldable smartphone by Motorola in the market. Many users ask "Is Motorola coming out with a new Razr?" the answer to this question is simply yes; Motorola has launched its foldable mobile having the name of Razr in the little competition of foldable mobiles. Previously we have Huawei Mate X and Samsung Galaxy Fold now there is also a giant mobile with less price.
Motorola Razr is cheaper than other foldable smartphones but still expensive than regular single-screen mobile phones in the market. The reason for this price is that this mobile phone has a few specs than Mate X and Galaxy Fold. It may attract the users who want to have a slim foldable mobile phone and can compromise on the specifications.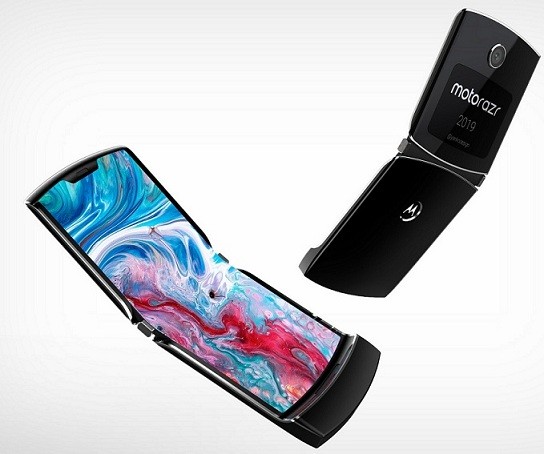 First Foldable Smartphone by Motorola: Release Date & Specs in details
Before we start our discussion about Motorola's first foldable smartphone specs, we must have to know when this mobile phone will be available in the market? Motorola Razr Foldable is announced in November 2019 and expected the release date of this elegant smartphone is December 2019.
Know more about the first foldable smartphone by Motorola in 2019
Now we are going to discuss some first foldable smartphone by Motorola specs in detail. This mobile phone has good features within the price range including its main feature of being a foldable smartphone.
Motorola Razr fold has the Snapdragon 710 processor, 6GB RAM with internal 128GB storage. There is a bad new maybe for few users that this mobile phone has no memory card slot! There are many users who ask "whether Motorola Razr has a sim tray or not?" this may disappoint many users because there is no sim tray with the mobile. There is the only option of eSim in Motorola's first foldable smartphone.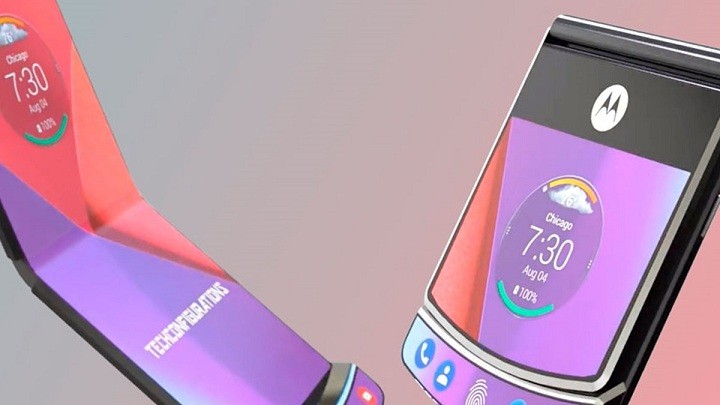 Foldable Smartphone by Motorola vs Galaxy Fold & Mate X
As we have mentioned above that there are few foldable smartphones in the market and Motorola has entered this new dimension of the smartphones with the launch of Motorola Razr specs.
So let's start the comparison of foldable devices that are in the market till now. To find out the best foldable phone 2019.
Motorola foldable phone is just similar to its previous Razr mobile phones which were slim. This mobile phone also has this feature along with specifications. Motorola Razr v4 foldable has a similar flip design with a display screen. But the other foldable mobile phones have different designs.
Samsung's foldable phone release date is September 2019. After the release of this mobile, they decided to launch its 5G variant as well. Samsung Galaxy fold has Snapdragon 855, Mate X has HiSilicon Kirin 980, and Razr 2019 has Snapdragon 710.
Huawei Mate X has 512GB internal memory with 8GB RAM while Samsung Galaxy Fold and Motorola Razr has 512GB, 12GB, and 128GB, 6GB respectively. There is no option for memory expansion in Motorola's foldable and Galaxy Fold on the other hand Mate X can support up to 256GB memory card.
Now if we talk about the battery than Mate X wins the race. Because it has Li-Po 4500mAh battery while Galaxy Fold has Li-Po 4380 mAh battery and Motorola Razr 2019 has Li-Po 2510 mAh battery.
As till now, we have discussed a few important features of these mobile phones. Now we can understand why there is a huge price difference among them.
After all this comparison if you want to save your money and to have a foldable mobile phone then you must go for the Motorola otherwise it does not seems like a wise choice to select Razr.
How much is the first foldable smartphone by Motorola?
Motorola's foldable smartphone price in USD is $1500 and Price in Pakistan is 249,999 R.s.
What is the best Motorola phone in 2019?
In the year 2019, Motorola's best mobile phone is a Motorola Razr foldable smartphone.
Is Motorola foldable smartphone is waterproof?
The first Motorola Razr foldable smartphone is not really waterproof but it is Splashproof.